A George Foreman Grill Is Safe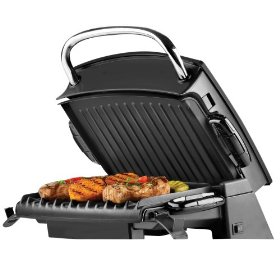 Many people may be asking themselves if a George Foreman Grill is safe to use in their home. The answer is yes, the Foreman Grills are safe. These grills were specifically made for indoor use. A vast majority of grills where outside models which was the only way to have BBQ foods. That all changed with the creation of the George Foreman Grill.
The George Foreman Grill was launched in 1994. Today, over 100 million of these grills have been purchased world-wide. They are constantly up grading them with new features like: removable plates, power button, timer, temperature control and additional plates for waffles and baking.
You may be asking yourself why they are safe. The answer is that the grill has an internal automatic shut-off system that will turn off the grill when it detects the grill is overheating. The older models did not have an on/off power switch to turn off the grill. The only way to turn off the grill was by unplugging it from the socket.
The newer models do have the on/off power button feature. Also, the newer models have a temperature adjustment control feature to adjust how hot the grill is needed to cook certain foods. On the older models it was just one temperature. You plugged it in, placed the food on the grill and pulled the plug when the food was done.
Are the George Foreman Grills safe to use? The answer is yes. Get one today and experience how foods taste coming off a George Foreman Grill.
What is nice about these grills is they are small and can be stored in the cabinet and be used at any time during the year. You don't have to worry about what the weather is outside. This is an indoor grill.
If you don't own one of these grills, you can click on the following link George Foreman Grill Store to check them out.
Happy Grilling!
Go back to the Find Out More Quickly home page.