Taking Cinnamon Rolls To The Next Level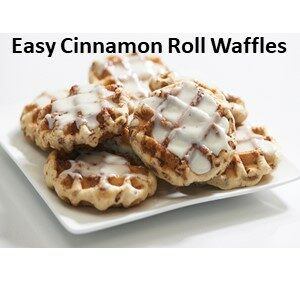 This easy cinnamon roll waffles recipe is so easy using the George Foreman Evolve Grill. They make for a quick snack or quick dessert to curb hunger pains. What is nice is you don't have to mix any waffle batter. Family members will get a kick out of seeing these cinnamon waffles.
All you do is go to the local supermarket or grocery store and buy your favorite brand of refrigerated cinnamon rolls found in the refrigeration case.
Instead of placing them on a cooking sheet and baking them in the oven, you just use your George Foreman Evolve Grill. This grill comes with waffle plates that are used in making this recipe.
If you don't have an Evolve Grill, you can shop for this item below.
With only one ingredient, you cannot fail in making these waffles and the family members will enjoy it. You can serve them with maple syrup or with the icing that comes in the cinnamon roll package.
This recipe also makes for a quick breakfast for the kids.
Cinnamon Rolls Nutrition Facts
Serving Size: 1 waffle
Calories: 140
Total Fat: 5 g 8% Daily Value (DV)
Saturated Fat:5 g 8% DV
Trans Fat: 2 g
Cholesterol: 0 mg
Sodium: 340 mg 14% DV
Total Carbohydrates: 23 g 8% DV
Dietary Fiber:5 g 2% DV
Sugars: 9 g
Protein: 2 g
Cinnamon Roll Waffle Recipe
This original recipe is taken from georgeforemancooking.com/blog/recipes/breakfast/cinnamon-roll-waffles.aspx with modifications made to my liking.
Related: ===> Other George Foreman Grill Recipes
Ingredients:
1 can of refrigerated cinnamon rolls with icing
Total Time: 4 Min. Prep Time: 1 Min. Cook Time: 3 Min. Serves: 8
Related: ===> George Foreman Cooking Times
Directions:
Remove both the top and bottom grill plates from the Evolve Grill. Attach the waffle plates to the top and bottom of the grill.
Preheat the George Foreman Grill to 350 degrees using the digital temperature setting and close the lid.
When the grill is ready, place 4 raw cinnamon rolls on the grill and close the lid.
Cook the cinnamon rolls for 2-3 minutes.
When done, remove the waffles from the grill and place on a serving platter. Spread each roll with icing (optional).
Continue cooking with the 4 remaining cinnamon rolls.
Turn off the grill.
Serve as is with icing or with maple syrup and your favorite side dishes like bacon or sausage.
Related: ===> How To Clean A George Foreman Grill
Conclusion
If you ever wanted an easy dessert, snack or breakfast meal, this recipe is for you. It's very quick and can be eaten plain right off the grill, with icing, or maple syrup. You can even add some bacon, sausage and eggs if you have time.
Your family members will get a kick of seeing cinnamon rolls in the shape of waffles.
However, this recipe can only be used on the George Foreman Evolve Grill. This is a premium grill that is more expensive than the basic grills.
Happy Cinnamon Waffle Grilling!
Shop Evolve Grill
You can shop for the Evolve grill below. You will be taken to Amazon where you can place the order.
As an Amazon associate I earn from qualified purchases.
Go back to the Find Out More Quickly home page.
Related: ===> George Foreman Grill Store