A Great Tasting Chicken Recipe!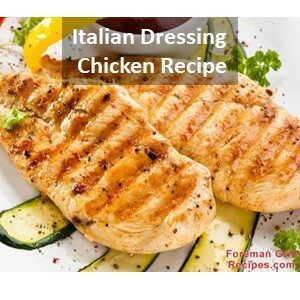 This Italian dressing chicken recipe will be a hit with family members who like chicken. A delicious meal that's cooked on the Forman Grill. This is an excellent way to take grilled chicken breast to the next level.
The recipe is very easy and not time consuming. It calls for skinless and boneless chicken breast with some marinade. If you do not have your own recipe you will be using this one over again.
The main ingredients for this recipe is the chicken and the Italian dressing which you can get at any local grocery store or supermarket.
If you can find chicken breasts that are ½" to ¾" is best. Don't worry, you can use a mallet to pound them down to size.
Italian Dressing Chicken Nutrition Facts
Serving Size: 1 (6 oz.) boneless, skinless chicken breast
Calories: 166
Total Fat:5g
Saturated Fat: 1g
Cholesterol: 105mg
Sodium: 113mg
Total Carbs: 3g
Fiber: 0g
Sugar: 1g
Protein: 36g
Vitamin A: 90 mcg
Vitamin C: 2%
Iron: 3%
Italian Dressing Grilled Chicken Recipe
The original recipe is taken from foremangrillrecipes.com/chicken-recipes/Italian-dressing-chicken/ and is modified according to my liking.
Ingredients:
2 boneless, skinless chicken breasts pounded to ½ to ¾" thickness
½ cup of your favorite Italian salad dressing
Related: ===> Other George Foreman Grill Recipes
Total Time: 2 hrs. 15 min. Prep Time: 2 Hrs. 10 min. Cook Time: 5 min. Serves: 2
Note: Adjust the ingredients accordingly if serving more than two people.
Related: ===> George Foreman Cooking Times
Directions:
Take the chicken breasts and pound them to ½ to ¾" thickness using a mallet. Place the chicken breasts on a paper plate, and cover with plastic wrap, and pound the breasts using a mallet. If you don't have a mallet, use a fork to pierce the breasts several times especially on the thickest parts.
Pour the salad dressing into a ziplock bag and place the chicken into the bag. Seal the bag and shake so that the chicken breasts get well coated. Set the bag in the refrigerator to marinate overnight. If you are in a hurry, let it marinate for 2 hours.
When you are ready to cook, preheat the George Foreman Grill on the "high" setting if your grill has this feature, with the lid closed. Place the drip tray in front of the grill.
When the grill is ready, remove the chicken breasts out of the bag and place it on the grill with the lid closed.
Let the chicken cook for 5 minutes. Check for doneness by using a meat thermometer for an internal temperature that is 165 degrees F. If not, continue cooking until it is. You don't want any pink in the center.
When the chicken is done, carefully remove the breasts from the grill as the food will be hot. Place the breasts on a platter and let them rest for 5 minutes. This allows the juices to be reabsorbed back into the meat.
Cook additional breasts until all breasts have been cooked.
Turn off the grill by unplugging it or by pressing the on/off power button if your model has this feature.
Serve the chicken breasts with your favorite side dishes.
Related: ===> How To Clean A George Foreman Grill
Conclusion
This is another nice variation of a chicken recipe you can use any time. It makes for a different type of chicken meal to serve your whole family and they should enjoy it. It will be delicious, juicy and tasty.
It is nice to vary the meals for your family. If you are alone, it great to try something different. It is all cooked using your George Foreman Grill.
Remember, this recipe uses boneless, skinless chicken breasts that are found in the meat section of your grocery store. They will be either frozen or fresh. If you are preparing the meal that day, look for fresh chicken breasts. Otherwise, you will need to thaw them out first before using this recipe.
Go back to the Find Out More Quickly home page.
Related: ===> George Foreman Grill Store