A Change of Pace Burger Recipe!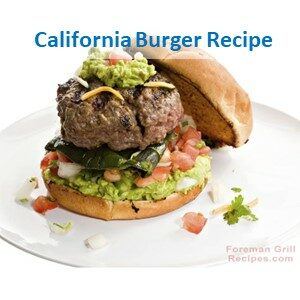 This delicious California burger recipe will satisfy your taste buds and take burgers to the next level. This is a lean burger that is healthy too. You will be using this recipe over and over again for a change of pace.
We all like hamburgers but sometimes we need a change. Trying a California style burger fits this scenario.
Best of all, you get to use the George Foreman Grill which removes any excess fat, making this a healthy choice to boot.
Shopping For Ground Beef
When you go shopping for purchasing ground beef for the California burger, look for 93% fresh lean ground beef in the meat section of your local grocery store or supermarket. You should find it already wrapped in 1 lb. packages. This is a standard ground beef staple and you should find it easy in the meat section.
If you cannot find any on display, ask the butcher to ground up 1 lb. of 93% lean ground beef and you're all set.
California Burger Nutrition Facts
Below is the nutrition information for consuming this burger.
Serving Size: 1 burger (1/4 lb.)
Calories: 541
Total Fat:2g
Saturated Fat:4g
Polyunsaturated Fat:8g
Monounsaturated Fat:5g
Cholesterol:1mg
Sodium: 510mg
Potassium: 587mg
Total Carbohydrates: 34g
Dietary Fiber:5g
Sugars:5g
Protein:3g
Related: ===> Other George Foreman Grill Recipes
California Burger Recipe
The original recipe was taken from foremangrillrecipes.com/burger-recipes/california-burger and modifications made to my liking.
Ingredients:
1 lb. of 93% lean ground beef (makes 4 burgers)
¼ cup of bread crumbs
2 Hamburger buns of your choice
½ teaspoon of Worcestershire sauce
½ teaspoon of Liquid Smoke
½ teaspoon of fresh ground pepper
Note: This recipe above is for 2 persons. Add to the ingredients above for additional people accept for the meat.
Avocado Salsa Topping Ingredients:
1 ripe avocado
Juice of ½ lemon
¼ cup fresh chopped red onion
1 tablespoon fresh chopped cilantro
¼ cup diced tomatoes
Total Time: 25 min. Prep Time: 20 min. Cook Time: 5 min. Serves: 2
Related: ===> George Foreman Cooking Times
Directions:
Mix meat, bread crumbs, and Worcestershire sauce, liquid smoke and pepper very well in a bowl. Shape into 4 ¼ lb. patties of about ½" thick. Set burgers in the fridge for 15 minutes. You can add a pinch of salt if desired.
In a separate bowl combine sliced avocado, chopped onion, cilantro, tomatoes and lemon juice. Mix well until all ingredients are well blended and it has a guacamole like consistency.
Preheat the George Foreman Grill on high, if your model has this feature, or just plug it in. Close the lid. Place the drip tray in front of the grill.
When the grill is ready, place the patties on the grill and close the lid.
Grill for about 5 minutes for medium doneness. Grill longer for less pink in the burger.
When all the patties are done place them on a plate and place buns on the grill with the lid open. Grill buns for 1 minute and remove.
Turn off the grill by unplugging it or by pressing the on/off power button if your model has this feature.
Place the grilled burgers on buns and then add the avocado spread to the tops of the burgers. You can add cheese if desired.
Serve with any additional condiments if desired.
Related: ===> How To Clean A George Foreman Grill
Conclusion
This is another nice and easy recipe for a change of pace hamburger for lunch or dinner. You just may be using this recipe over again, so keep it handy.
As you can see, the George Foreman Grill can be used for cooking lots of different types of dishes including hamburgers.
Use this recipe in case you may not have one of your own.
Happy Hamburger Grilling!
Go to the Find Out More Quickly home page.
Related: ===> George Foreman Grill Store