Tasty Grilled Chicken Breasts!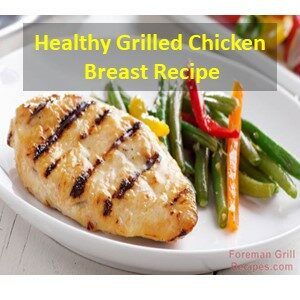 Here is a great healthy grilled chicken breast recipe you can use over and over again for lunch or dinner. This goes well with a variety of chicken dishes. You can make an excellent boneless skinless chicken breast right on your Foreman Grill.
As with all chicken breast recipes on a George Foreman Grill, you'll get best results using a cut of meat that isn't too thick. Use a meat mallet and pound larger chicken breasts thin – to approximately 1/2″ thick.
The results will be a tender chicken breast.
Shopping for Chicken
When you go into your local market or grocery store, in the meat section look for boneless skinless chicken breast. Try to find cuts of chicken that are ½" size of thickness. If that is not available, you will have to pound the chicken to the ½" size thickness later.
You can use any variety of chicken which will grill well on your George Foreman Grill. Generally the package will vary in weight. Look for ½ lb. package as the recipe calls for 2 4oz. chicken breasts. You may have to cut them down into the proper size later.
The recipe mentioned below is provided by foremangrillrecipes.com. Use this one if you don't have a recipe of your own.
Related ===>  George Foreman Grill Store
Chicken Breast Nutrition
Serving Size: 4 oz.
Calories: 142
Total Fat:1g
Saturated Fat:7g
Monounsaturated Fat:8g
Polyunsaturated Fat:5g
Trans Fat: 0g
Cholesterol:1mg
Sodium:1mg
Potassium: 394mg
Carbohydrates: 0g
Net Carbs: 0g
Sugar: 0g
Fiber: 0g
Note: The nutritional values listed above is for raw chicken breasts with no seasonings added.
Marinating the Chicken Recipe
The original recipe is taken from foremangrillrecipes.com and modifications made to my liking.
Ingredients:
2 4oz. boneless skinless chicken breasts pounded to ½" in thickness
1 clove garlic – chopped fine
1 teaspoon sage
1 teaspoon thyme
1 teaspoon rosemary
1/8 cup of low-sodium chicken broth
2 teaspoons of lemon juice
Pinch of black pepper
Related: ===> Other George Foreman Grill Recipes
Directions:
Mix all the ingredients into a Ziploc bag.
Add the chicken breasts into the bag making sure the chicken is well-coated.
Let the chicken marinate in the refrigerator for 30 minutes.
Total Time: 45 min. Prep Time: 40 min. Cooking Time: 5 min.
Related ===> George Foreman Cooking Times
Grilling the Chicken Breasts
Below are the steps to follow to grill the chicken on the George Foreman Grill.
Directions:
Preheat the George Foreman Grill with the lid closed.
Place the drip tray in front of the grill.
Remove the chicken from the fridge.
When the grill is ready, place the chicken on the grill with the lid closed.
After 5 minutes, check the temperature of the chicken using a meat thermometer. Look for an internal temperature of 165 degrees F. Continue cooking until the temperature is reached or no pink is in the middle.
Remove the chicken from the grill being careful as the food and grill plates will be hot. Place on a serving plate.
Turn off the grill by pulling the plug or by pressing the on/off button if your model grill has this feature. Or, continue cooking until all chicken breasts have been grilled.
Serve with your favorite side dishes.
Related ===> How To Clean A George Foreman Grill
Conclusion
There you have it a nice easy recipe for cooking boneless chicken breasts on your George Foreman Grill.
Now you can serve your family some great tasting chicken breasts that are healthy and tender. You may be asked to serve this meal again and again.
For a variation you can serve this chicken with other side dishes that go well with chicken.
Happy chicken grilling!
Go back to the Find Out More Quickly home page.