Take Grilling Pork Chops To The Next Level!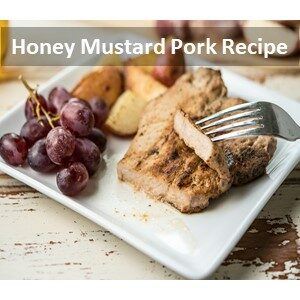 This honey mustard pork recipe will give you some great delicious amazing tasting pork chops that are cooked on the George Foreman Grill. Pork chops never tasted so good. You will be using this recipe over and over again.
If you like pork chops, you need to try this recipe and serve it to your whole family, especially if they are pork lovers.
This recipe takes the pork chop to the next level. If you don't have your own honey mustard pork chop recipe, you can use this one.
The original recipe was taken from georgeforemancooking.com/blog/recipes/pork/honey-mustard-pork-chops.aspx with modifications made to my liking.
Honey Mustard Nutrition Facts
Serving Size: 6 oz.
Calories: 310
Total Fat:7g 20%
Saturated Fat:3g 12%
Cholesterol: 49mg 16%
Potassium: 416mg 9%
Sodium: 263mg 11%
Total Carbs: 25g 9%
Dietary Fiber: 4g 15%
Total Sugars: 3g
Protein: 21g 43%
Calcium: 46mg 4%
Iron:4mg 8%
Note: If you should consume a serving larger than 6 oz. you will need to adjust the nutrition values by increasing them accordingly.
Honey Mustard Pork Chop Recipe
Ingredients:
1 lb. pork loin chops
1 Tablespoon honey mustard
½ Tablespoon honey
1/8 teaspoon garlic powder
1/8 teaspoon onion powder
Salt & pepper to taste
Related: ===> Other George Foreman Grill Recipes
Total Time: 15 min. Prep Time: 3 min. Cook Time: 12 min. Serves: 2
Related: ===> George Foreman Cooking Times
Directions:
Preheat the George Foreman Grill on setting 4 if your model has this option otherwise, just plug it in. Close the lid and place the drip tray in front of the grill.
In a small bowl, mix together the honey mustard, honey, garlic powder, onion powder, salt and pepper. Set aside.
Pat the pork loins dry using a paper towel and season with your favorite pork rub. Suggestion: You can use a sweet and smoky rub to bring out the sweetness of the honey.
When the grill is ready, place the pork chops on the grill and close the lid.
Cook the chops for 5 minutes. Flip the pork chops and baste the grilled side with the honey mustard mixture. Close the lid and grill for an additional 4 minutes. Flip the pork chops and baste the grilled side with the remaining honey mustard mixture. Close the lid. Grill for an additional 2 minutes. You are looking for an internal temperature of 135 degrees.
When done, remove the pork chops from the grill carefully as the food will be hot. Place the chops on a platter and let them rest for 5 minutes.
Turn off the grill by unplugging it or by pressing the on/off power button if your model has this feature.
Serve the pork chops with your favorite side dishes.
Related: ===> How To Clean A George Foreman Grill
Conclusion
You cannot go wrong using this pork chop recipe. Your family members will enjoy it as a change of pace pork chop meal. The chops will be juicy and delicious especially when served with their favorite side dishes.
When you are in the mood for serving pork chops why don't you try this recipe and see what the family members have to say. I am quite sure that you will receive lots of complements.
If you are looking to try something new, this recipe is it.
Happy Pork Chop Grilling!
Go back to the Find Out More Quickly home page
Related: ===> George Foreman Grill Store