Accessories Enhance Your Shop Vac Experience!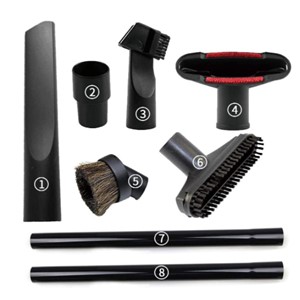 Now that you own a dry/wet vacuum you may need to enhance your appliance by adding some new Shop Vac accessories. Like a crevice tool, sander, and extra wands. If you lost one of the attachments you can replace it. Should you own a Shop Vac or some other brand of dry/wet vacuum, you should be able to find an attachment or accessory for your appliance.
With the extra suction power of these vacuums, have the right accessory for the job is important. You can clean the car and other areas of the home.
We have included filters for various wet/dry vacuums. They include: Ridgid, Workshop, Shop Vac, Stanley, Craftsman and Dewalt.
What Are Some Accessories or Attachments?
Some attachments or accessories for dry/wet vacuums are:
Straight Extension Wand
Crevice Tool
Dusting Brush
Angled Exetnsion Wand
Wet Nozzle
Gulper Floor Nozzle
Sander
Cartridge Filter
Dust Collection Bag
Hose
Foam Wet Filter
These are just a few of the accessories and attachements you can add to your existing dry/wet vacuum. Or, need to purchase some becuase either you lost one or broke it.
Project Attachments
If you are planning some projects that requires lots of dust or sanding, you just might want to consier getting the drywall sander attachment tool. This tool sucks the dust from the drywall into the canister and not on the furniture, floor or electronics and not all over the room. It also protects your lungs from breathing in the dust too. The tool attaches easily to your dry/wet vacuum. I have personally used this sander tool and I can highly recommend it to you if you are planning on hanging drywall in the future.
Shop Dry/Wet Attachments
You can shop for the dry/wet vac attachments below. You will be taken to Amazon where you can place the order, read customer reviews, and answered questions about the product.
As an Amazon Associate I earn from qualifying purchases.
Shop Vac Wet/Dry Accessories
Craftsman Accessories
Stanley Accessories
DeWalt Accessories
WORKSHOP Accessories 


RIDGID Accessories