Taking Grilled Burgers To The Next Level!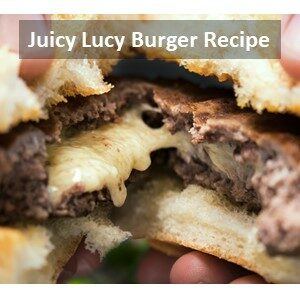 Have you heard of the juicy Lucy burger recipe from Minnesota? Get ready, as you never tasted a burger so good, juicy and tasty off the Foreman Grill. This recipe will be a hit with the entire family as it is a great tasting mouth-watering burger being cooked on the George Foreman Grill.
We highly recommend using 80/20 ground beef ratio of fat to lean meat. However, any type of ground beef will do this recipe well including 85/15, 90/10, and 93/7 lean to fat ratios.
The burger will be a great change of pace for most family members. The origin of this burger originated in Minneapolis, Minnesota in 1954. Now, you get to cook it in your home on your Foreman Grill.
Juicy Lucy Burger Nutrition Facts
Serving Size: 1 burger 4 oz.
Calories: 450
Total Fat: 26 g
Saturated Fat: 11 g
Polyunsaturated Fat: 0 g
Monounsaturated Fat: 0 g
Cholesterol: 90 mg
Sodium: 410 mg
Potassium: 0 mg
Total Carbohydrates: 23 g
Dietary Fiber: 1 g
Sugars: 1 g
Protein: 28 g
Vitamin A: 6% DV (Daily Value)
Calcium: 30% DV
Juicy Lucy Burger Recipe
The original recipe is taken from georgeforemancooking.com/blog/recipes/red-meat/juicy-lucy-burger.aspx and is modified according to my liking.
Ingredients:
2 lbs. of ground beef (using your choice of lean to fat ratio)
1 ½ teaspoons salt
1 teaspoon onion powder
1 teaspoon garlic powder
1 teaspoon Worcestershire sauce
3 oz. of smoked cheddar cheese, cut into slices (or use any cheese of your choice)
5 hamburger buns toasted (You can use any bun of choice)
Related: ===> Other George Foreman Grill Recipes
Total Time: 15 min. Prep Time: 10 min. Cook Time: 8 min. Serves: 5
Related: ===> George Foreman Cooking Times
Directions:
In a medium bowl, mix together the ground beef, salt, onion powder, garlic powder and Worcestershire sauce. After the seasonings have been added and well mixed, form beef into 10 equal patties.
Cut the 3 cheese slices into 15 strips.
Place a small indent into 5 of the patties. Place three cheese slices into each indent. Then, cover with the other patty. Press the sides together to seal in all of the cheese.
Preheat the George Foreman Grill at the number 4 setting if your model has this option. Otherwise, just plug it in. Place the drip tray in front of the grill.
When the grill is ready, place the burgers on the grill as many will fit. Close the lid.
Cook the burgers for 5 minutes for medium rare and 7 minutes for medium. Cook for 8-9 minutes for well done. Remove the burgers when the desired doneness is reached. Continue grilling until all of the burgers have been cooked.
When the burgers are done, remove them from the grill and place them on a platter to rest. Grill the buns for 1 minute with the lid open.
Turn off the grill by unplugging it or by pressing the on/off power button if your model has this feature.
Serve the burgers on the toasted buns along with your favorite condiments and sides like chips, lettuce and sliced tomatoes if desired.
Related: ===> How To Clean A George Foreman Grill
Conclusion
This is a great change of pace hamburger recipe that the whole family will enjoy at any time. This burger will be juicy so have plenty of napkins available.
If you are looking for a unique hamburger recipe that makes a juicy burger than this is it. Not only is it juicy but also delicious.
You should receive may complements when you serve this burger not only to family members, but also friends and neighbors.
Happy Burger Grilling!
Go to the Find Out More Quickly home page.
Related: ===> George Foreman Grill Store