Product Features for the Top 20 Primary Submersible Sump Pumps
Are you wondering what features each of the 20 best selling sump pumps offers? Are you wondering what similarities or differences distinguish each of these primary submersible sump pumps?
Before we purchased our last sump pump, we compared the top 20 best selling sump pumps and their common features to help us in our decision making process.  We have included our comparison table below for your usage.
To view the unique features and specifications for each of the top 20 best sellers, click on the Features Site Map on the right or scroll down the page.
Remember, investing in the right Primary Submersible Sump Pump for your situation is so important.  Your home deserves to be protected from water damage when those heavy rains come.
As an Amazon associate I earn from qualified purchases.
Back to the Sump Pump general page.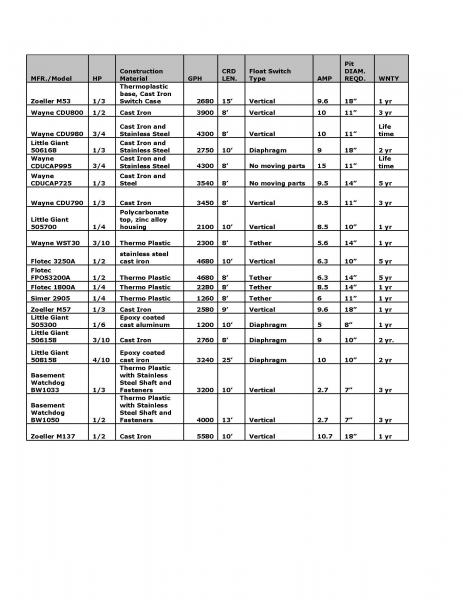 #1 Zoeller M53 1/3 HP Features
Housing Material: Cast -Iron<
Motor Amps: 9.6
Thermal Protection: Yes
Power Cord Length: 15 feet
Oil Free Motor: No
Float Type: Vertical
GPH @ 0 feet: 2680     @10 feet: 2040     @15 feet: 1140
Discharge Port Size: 1 1/2″
Built-in Check Value: No
Float On: 7.25″ (9.98 kilograms)
Float Off: 3″ (25.91 x 19.05 x 25.91 cm)
Manual Override: No
Solid Handling: 1/2″
Weight: 22 lbs.
Consumer Warranty: 1 year

#2 Wayne CDU800 1/2 HP Features
Housing Material: Cast iron construction with corrosion-proof thermoplastic top assembly
Motor Amps: 10
Thermal Protection: Yes
Power Cord Length: 8 feet
Oil Free Motor: No
Float Type: Vertical
GPH @ 0 feet: 3900
Discharge Port Size: 1 1/2″
Built-in Check Value: No
Top suction design
Mechanical float switch provides automatic on/off operation
Glass reinforced Poly-carbonate impeller shaft
Designed for clear water operation only
Compactly designed to fit into a 11″ diameter basin or larger
Permanently lubricated ball bearing
Consumer Warranty: 3 year
UL and CSA listed

#3 Wayne CDU980 3/4 HP Features
Housing Material: Stainless steel for superior corrosion resistance and a durable cast iron pump for long life.  Its rugged components stand up to tough conditions year after year.
Motor Amps: 10
Thermal Protection: Yes
Power Cord Length: 8 feet
Premium oil filled motor
Float Type: Vertical
GPH @ 0 feet: 4300
Discharge Port Size: 1 1/2″
Built-in Check Value: No
Top suction strainer filters debris
Mechanical float switch provides automatic on/off operation
Glass reinforced Poly-carbonate impeller shaft
Designed for clear water operation only
Compactly designed to fit into a 11″ diameter basin or larger
Permanently lubricated ball bearing
Consumer Warranty: Lifetime

#4 Little Giant 506168 1/3 HP Features
Housing Material: Cast iron pump housing with protective epoxy coating for corrosion resistance
A polycarbonate cover and a propylene volute
Stainless steel screws and bolts
Motor Amps: 9
Thermal Protection: Yes
Power Cord Length: 10 feet
Oil filled motor housing for lifetime lubrication and rapid heat dissipation
Shaded pole motor
Float Type: Diaphragm
GPH @ 0 feet: 2750
Discharge Port Size: 1 1/2″
Built-in Check Value: No
Built for extended or continuous use
Automatic operation with piggy-back mechanical float switch activates sump pump
Fits into a 18″ diameter basin
Upper and lower sintered sleeve bearings for extended motor life
Weight: 17.5 lbs.
Consumer Warranty: 2 years

#5 Wayne CDUCAP995 3/4 HP Features
Innovative Switch Genius switch uses a microprocessor control to detect water, turn on the pump and determine run time.  Lasts 5 times longer than traditional switch
No moving parts to wear out or get hung up
Housing Material: Stainless steel for superior corrosion resistance
Durable cast iron base
Motor Amps: 10
Thermal Protection: Yes
Power Cord Length: 8 feet
Heavy duty oil filled motor for durability
GPH @ 0 feet: 4300     @10 feet: 3500     @15 feet: 2500
Discharge Port Size: 1 1/2″
Built-in Check Value: No
Glass reinforced carbonate impeller shaft
Top suction design built to prevent clogging
Designed for clear water operation only
Compactly designed to fit into a 11″ diameter basin or larger
Consumer warranty: Lifetime

#6 Wayne CDUCAP725 1/3 HP Features
Innovative Switch Genius switch uses a microprocessor control to detect water, turn on the pump and determine run time.  Lasts 5 times longer than traditional switch
No moving parts to wear out or get hung up
Cast iron and stainless steel construction
Durable cast iron base
Motor Amps: 10
Thermal Protection: Yes
Power Cord Length: 8 feet
Heavy duty oil filled motor for durability
GPH @ 0 feet: 3540
Consumer warranty: 5 years

#7 Wayne CDU790 1/3 HP Features
Automatic on/off action with mechanical vertical switch
Cast iron housing with stainless steel fasteners
Motor Amps: 9.5
Thermal Protection: Yes
Power Cord Length: 8 feet
Oil filled motor
GPH @ 0 feet: 3450
Discharge Port Size: 1 1/2″
Built-in Check Value: No
Poly-carbonate impeller shaft
Top suction design
Designed for clear water operation only
Compactly designed to fit into a 11″ diameter basin or larger
Consumer warranty: 3 years

#8 Little Giant 505700 1/4 HP Features
Automatic operation with built in snap action float switch
Zinc alloy housing with stainless steel fasteners
Polycarbonate top with polypropylene volute
Motor Amps: 8.5
Thermal Protection: Yes
Power Cord Length: 10 feet
Lifetime oil supply for motor
GPH @ 0 feet: 2100
Discharge Port Size: 1 1/4″
Built-in Check Value: No
Handles up to 3/8″ solids
Includes garden hose adaptor
Designed for clear water operation only
Compactly designed to fit into a 10″ diameter basin or larger
Consumer warranty: 1 year

#9 Wayne WST30 3/10 HP Features
Square D tethered piggy-back style switch
Impact and corrosion resistant thermo plastic housing
Polycarbonate top with polypropylene volute
Motor Amps: 5.6
Thermal Protection: Yes
Power Cord Length: 8 feet
GPH @ 0 feet: 2300
Discharge Port Size: 1 1/2″
Built-in Check Value: No
Top suction with intake filters debris
Designed for clear water operation only
Designed to fit into a 14″ diameter basin or larger
Weight: 10 lbs.
Consumer warranty: 1 year

#10 Flotec FPSC3250A 1/2 HP Features
Stainless steel housing with cast iron top and base
Motor Amps: 6.3
Thermal Protection: Yes
Power Cord Length: 10 feet
GPH @ 0 feet: 4680     @5 feet:4380     @10 feet: 3840
Discharge Port Size: 1 1/2″
Built-in Check Value: No
Designed to fit into a 10″ diameter basin or larger
Weight 23.4 lbs.
Consumer warranty: 5 years

#11 Flotec FPOC3200A 1/2 HP Features
Thermo plastic housing
Motor Amps: 6.3
Thermal Protection: Yes
Oil cooled high torque motor
Power Cord Length: 8 feet
GPH @ 0 feet: 4680     @5 feet:4380     @10 feet: 3840
Discharge Port Size: 1 1/4″
Automatic float
Built-in Check Value: No
Screened top inlet
Designed to fit into a 14″ diameter basin or larger
Weight 11.2 lbs.
Consumer warranty: 5 years

#12 Flotec 1800A 1/4 HP Features
Corrosion and abrasion thermo plastic housing
Motor Amps: 8.5
Thermal Protection: Yes
Oil cooled high torque motor
Power Cord Length: 8 feet
GPH @ 0 feet: 2280
Discharge Port Size: 1 1/4″ and 1 1/2″
Automatic tethered float
Built-in Check Value: No
Screen toped inlet
Designed to fit into a 14″ diameter basin or larger
Weight 8.2 lbs.
Consumer warranty: 1 year
#13 Simer 2905 1/4 HP Features
Corrosion and abrasion thermo plastic housing resists stress and heat
Motor Amps: 6
Thermal Protection: Yes
Oil cooled motor
Power Cord Length: 8 feet
GPH @ 0 feet: 1260
Discharge Port Size: 1 1/4″
Automatic tethered float
Built-in Check Value: No
Piggy-back float switch (non-mercury) provides automatic operation
Anti-airlock valve
Designed to fit into a 11″ diameter basin or larger
Replaceable cord and handle
Weight 9.1 lbs.
Consumer warranty: 1 year
#14 Zoeller M57 1/3 HP Features
Cast iron
Motor Amps: 9.6
Thermal Protection: Yes
Oil cooled motor
Power Cord Length: 9 feet
GPH @ 0 feet: 2580     @10 feet: 1140
Discharge Port Size: 1 1/2″
Automatic vertical float
Built-in Check Value: No
Cast iron impeller
Top of housing is cast iron
Discharges solids up to 1/2″
Designed to fit into a 18″ diameter basin or larger
Consumer warranty: 1 year

#15 Little Giant 505300 1/6 HP Features
Epoxy coated cast aluminum
Motor Amps: 5
Thermal Protection: Yes
Oil cooled shaded pole motor
Power Cord Length: 10 feet
GPH @ 0 feet: 1200
Discharge Port Size: 1″
Piggy-back diaphragm switch
Built-in Check Value: No
Nylon impeller and nylon shaft seal
Manual or automatic activation
Includes garden hose adapter
Bottom removable inlet screen for easy cleaning
Designed to fit into a 8″ diameter basin or larger
Has a remote switch
Weight: 14.5 lbs.
Consumer warranty: 1 year

#16 Little Giant 506158 3/10 HP Features
Cast iron pump housing with epoxy coating for corrosion resistance
Stainless steel screws, bolts and handle
Polycarbonate cover with polypropylene volute/base
Motor Amps: 10
Thermal Protection: Yes
Oil cooled motor housing for lifetime lubrication and rapid heat dissipation
Mechanical seal to assure maximum protection against pump failure
Bearings: upper and lower sintered
Automatic operation with piggy-back mechanical float switch activates pump
Power Cord Length: 8 feet
GPH @ 0 feet: 2760     @ 5 feet: 2750     @ 10 feet: 1750
Discharge Port Size: 1 1/2″
Piggy-back diaphragm switch
Built-in Check Value: No
Designed to fit into a 10″ diameter basin or larger
Weight: 17.5 lbs.
Consumer warranty: 2 years

#17 Little Giant 508158 4/10 HP Features
Cast iron pump housing with epoxy coating for corrosion resistance
Stainless steel screws, bolts and handle
Polycarbonate cover with polypropylene volute/base
Motor Amps: 10
Thermal Protection: Yes
Oil cooled motor housing for lifetime lubrication and rapid heat dissipation
Mechanical seal to assure maximum protection against pump failure
Bearings: upper and lower sintered
Power Cord Length: 25 feet
GPH @ 0 feet: 3240
Discharge Port Size: 1 1/2″
Diaphragm
Built-in Check Value: No
Designed to fit into a 10″ diameter basin or larger
Weight: 20 lbs.
Consumer warranty: 2 years

#18 Basement Watchdog BW1033 1/3 HP Features
Thermoplastic non corrosive housing
Stainless steel shaft and fasteners
Dual seal protection
Permanent split capacitator motor
Upper and lower ball bearings
Motor Amps: 2.7
If pump runs 5 minutes per hour every day of the year, a homeowner will save $78 per year.
Thermal Protection: Yes
Water cooled motor therefore no oil to leak
Power Cord Length: 10 feet
GPH @ 0 feet: 3200     @10 feet: 2200
Discharge Port Size: 1 1/2″
Dual vertical float switches with protective cage; therefore cannot get caught
Dual float switch cage is detached from the pump (external to the pump)
Cage is built so not debris can get into the top and the bottom is concaves so debris and sludge cannot collect
Built-in Check Value: No
Solids handling: none
Built-in air relief vent
Designed to fit into a 7″ diameter basin or larger
Weight: 13 lbs.
Manual override: none
Consumer warranty: 3 years

#19 Basement Watchdog BW1050 1/2 HP Features
Motor housing material: Stainless steel
Top of housing is made from thermoplastic
Stainless steel shaft and fasteners
Dual seal protection
Permanent split capacitator motor
Upper and lower ball bearings
Motor Amps: 2.7
If pump runs 5 minutes per hour every day of the year, a home owners will save $78 per year
Thermal Protection: Yes
Water cooled motor therefore no oil to leak
Power Cord Length: 13 feet
GPH @ 0 feet: 4000     @10 feet: 2820
Discharge Port Size: 1 1/2″
Vertical float
Dual float switches with protective cage; therefore cannot get caught
Dual float switch cage is detached from the pump (external to the pump)
Cage is built so not debris can get into the top and the bottom is concaves so debris and sludge cannot collect
Built-in Check Value: No
Solids handling: none
Built-in air relief vent
Designed to fit into a 7″ diameter basin or larger
Weight: 13 lbs.
Manual override: none
Consumer warranty: 3 years

#20 Zoeller M137 1/2 HP Features
Cast iron cast switch case, motor and pump housing, base and impeller
Top of housing is also cast iron
Stainless steel screws, bolts and handle
Motor Amps: 10.7
Thermal Protection: Yes
Oil cooled motor
Power Cord Length: 10 feet
GPH @ 0 feet: 5580
Discharge Port Size: 1 1/2″>
Automatic vertical float
Float operated 2 pole mechanical switch
Upper and lower sleeve bearings running in bath of oil
Built-in Check Value: No
Carbon and ceramic shaft seal
Discharges solids up to 5/8″
Non clogging vortex design
Designed to fit into a 18″ diameter basin or larger
Consumer warranty: 1 year
Features Site Map of Top 20 Submersible Sump Pumps
1. Zoeller M53 1/3HP
2. Wayne CDU800 1/2 HP
3. Wayne CDU900 3/4HP
4. Little Giant 506168  1/3 HP
5. Wayne CDUCAP995 3/4HP
6. Wayne CDUCAP725 1/3HP
7. Wayne CDU790 1/3HP
8. Little Giant 505700 1/4HP
>9. Wayne WST30 3/10HP
10. Flotec FPSC3250 1/2 HP
11. Flotec FPOS3200A 1/2 HP
12. Flotec 1800A 1/4HP
13. Simer 2905 1/4HP
14. Zoeller M57 1/3HP
15. Little Giant 505360 1/6HP
16. Little Giant 506158 3/10HP
17. Little Giant 508158 4/10HP
18. Basement Watchdog BW1033 1/3 HP
19. Basement Watchdog BW1050 1/2 HP
20. Zoeller M137 1/2 HP