Salisbury Steak the Whole Family Can Enjoy!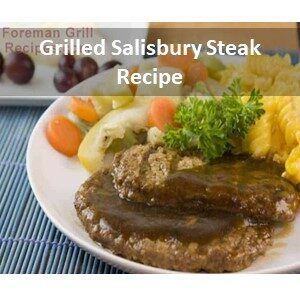 Grilled Salisbury steak recipe cannot taste better than being grilled on the George Foreman Grill. You will love and the kids will too. Salisbury steak is made with 80% to 90% lean ground beef. The recipe is easy to follow if you don't have one of your own.
Your whole family will like the taste of this grilled steak being served with their favorite side dishes. This is a very quick and delicious meal to serve anyone.
We have included a gravy recipe you can use to pour over the steak and any side dishes that could be enhanced with gravy.
This recipe is provided by foremangrillrecipes.com.
Salisbury Steak Nutrition Information
Below is the nutritional information for 1 salisbury steak that weighs 6 ounces.
Serving Size: 1 steak 6 oz.
Calories: 296
Total Fat: 16g
Saturated Fat:9g
Trans Fat:6g
Cholesterol: 103mg
Sodium: 639mg
Potassium: 611mg
Total Carbohydrates: 13g
Dietary Fiber:9g
Sugars:7g
Protein: 24g
Calcium: 6%
Iron: 17%
Salisbury Steak Recipe
You can skip this recipe if you have your own. Otherwise, give it a try to see how your steak will taste. The original recipe is taken from foremangrillrecipes.com and modifications made to my liking.
Salisbury Steak Ingredients:
1 lb. of ground beef (80%-90% lean)
¾ cup of breadcrumbs
1 large egg
¼ cup of milk
½ teaspoon onion powder
½ teaspoon garlic powder
½ teaspoon salt
½ teaspoon pepper
2 tablespoons ketchup
Related: ===> Other George Foreman Grill Recipes
Directions:
Combine ground beef, breadcrumbs, egg, milk, onion powder, garlic powder, salt, pepper, and ketchup in a bowl and mix well with your hands.
Shape into patties of about ¼ pound each into the size of a traditional salisbury steak (oval ¼" – ½" thickness).
Preheat the George Foreman Grill with the lid closed. Place the drip tray in front of grill.
When the grill is ready, place the steaks on the grill with the lid closed.
Grill steaks for 3-4 minutes and check that the internal temperature is 160 degrees F. Continue grilling steaks until the temperature is reached.
Remove steaks from the grill. Grill the next batch of steaks if necessary.
Turn off the grill by pulling the plug or pressing the on/off power button if your grill has one.
Serve the steaks with your favorite sides.
Salisbury Steak Gravy Recipe
You can use this recipe or use your own.
Ingredients:
¼ cup of flour
¼ cup butter (half stick)
2 cups of beef broth
1 teaspoon browning sauce
¼ teaspoon each of salt and pepper
Directions:
Melt butter in a small saucepan over low/medium heat.
Slowly whisk in flour and continue whisking until lumps are gone. Continue on heat for 5 minutes and stir constantly.
Slowly add in the beef broth and keep stirring over low heat until sauce thickens (about 5 minutes).
Add salt and pepper to taste.
Note: You can make the gravy ahead of time before grilling the steaks.
Conclusion
Salisbury steaks grilled to perfection using the George Foreman Grill. It's a great meal to serve your whole family. With great side dishes, it is a very fulling meal. We provided a gravy and salisbury steak recipes for you to use the next time you are grilling this steak.
Our family likes this meal served with macaroni and cheese with mixed vegetables. However, serve it anyway you like it.
The next time you want to serve a good meal to your family, don't forget about Salisbury steak.
It will be a hit with everyone!
Related ===> George Foreman Grill Store
Go back to the Find Out More Quickly home page.