Using Leftover Turkey Into Something Tasty!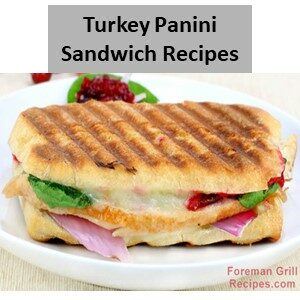 Using the turkey Panini sandwich recipes will take any left-over turkey from Thanksgiving a delicious sandwich when they are grilled on the George Foreman. You be amazed how good these sandwiches taste. This is an excellent way of using the leftovers from the big holiday feast and giving your family members something different for lunch or dinner.
These sandwiches will be delicious and can be served with any of the left-over vegetables or any of the other side dishes of choice. Or, just serve the sandwich as is.
The sandwiches will not take long to grill, so you can ease the hunger pains of your kids and older family members.
This recipe can be used on any George Foreman Grill and not just the Panini Grill models.
Turkey Panini Recipe
Use this recipe if you don't have one of your own. The original recipe is taken from foremangrillrecipes.com and modifications are made according to my liking.
Ingredients:
Carved turkey breast (you can use deli turkey)
Spinach
Sliced Vidalia onion
2 slices of cheese of your choice
Homemade cranberry sauce (or leftover)
2 slices of sourdough bread
Olive Oil
Total time:8 min – Prep time:5 min – Cook time:3 min – Serves:1 people
Related: ===> George Foreman Cooking Times
Note: If you are going to make more than one sandwich, adjust the ingredients accordingly.
Directions:
Create the panini by placing 1 slice of cheese on one of the bread slices. Add thin slices of Vidalia onion, followed by the spinach. Add some turkey breast and the other slice of cheese. Place the other slice of bread on top. Now, brush both sides of the sandwich with olive oil.
Preheat the George Foreman Grill with the lid closed. Place the drip tray in front of the grill.
When the grill is ready, place the sandwich on the grill with the lid closed.
Cook for 3 minutes or until the bread is nicely toasted and the cheese is melted.
When done, remove the sandwich from the grill. Be careful, it will be hot and place it on a serving plate.
Turn off the grill by unplugging it or by pressing the on/off power button if your model has this feature.
Remove the top piece of bread from the sandwich and add a layer of cool (but not cold) cranberry sauce. (Optional)
Serve sandwich as is or with your favorite side dishes such as kettle chips, leftover mashed potatoes or anything else.
Related: ===> How To Clean A George Foreman Grill
Conclusion
This is a great way to use those leftovers from any holiday meal like Thanksgiving and use them for a nice turkey panini sandwich on your George Foreman Grill.
This recipe is for one person so you can adjust the ingredients as necessary for the number of persons who will be eating.
Just a reminder, you don't need to have a Panini Foreman Grill to make this sandwich. The recipe will work with any George Foreman Grill model.
The sandwich is great just as is or with any of your favorite side dishes or leftovers.
Happy Panini Grilling!
Go to the Find Out More Quickly home page
Related: ===> George Foreman Grill Store