Tasty Chicken On A George Foreman Grill!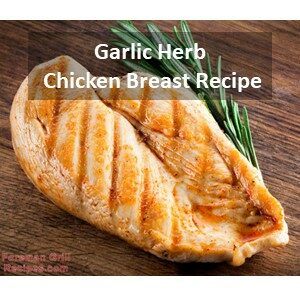 This garlic herb chicken breast recipe uses boneless skinless chicken breast that's easy to make on your Foreman Grill and is bursting with flavor. You can serve this meal in as little as 45 minutes.
This is a great recipe that is best if it's prepared a few hours in advance or overnight for even better flavor. Either way, you can't go wrong using this recipe serving your family or guests.
This recipe goes well as a low fat meal or served over salad with your favorite dressing.
The recipe is provided by foremangrillrecipes.com with a few modifications.
Shopping for Chicken Breast
When you go to your local grocery or supermarket, you can look for boneless skinless chicken breast in the frozen meat section or the fresh meat section aisles of the store. Look for 1 lb. packages if they are available.
If you are planning on grilling the chicken the same day, it is best to buy fresh chicken breast as they won't have to be thawed before cooking. Otherwise, purchase the frozen boneless skinless chicken breast for making at a future date.
Garlic Herb Chicken Breast Nutrition
Below are the nutritional values for garlic herb chicken breast.
Serving Size: 4 oz.
Calories: 100
Calories From Fat: 9
Total Fat: 1g
Cholesterol: 60mg
Sodium: 880mg
Carbohydrates: 0g
Net Carbs: 0g
Sugars: 0g
Fiber: 0g
Protein: 22g
Note: If the serving size is less than 4 oz. you reduce the values mentioned above. If greater than 4 oz. you increase the values mentioned above.
Marinating the Chicken
The original recipe is taken from foremangrillrecipes.com and modifications made to my liking.
Ingredients:
1 lb. boneless skinless chicken breasts
1/3 cup olive oil
1 teaspoon chopped rosemary
1 teaspoon oregano
1 teaspoon thyme
2 cloves minced garlic
Salt and pepper to taste
Related: ===> Other George Foreman Grill Recipes
Total Time: 45 Min. Prep Time: 40 min. Cook Time: 5 min.
Related ===> George Foreman Cooking Times
Directions:
Combine all ingredients except chicken, in a bowl and mix well.
Pound chicken using a meat mallet until ¼" to ½" thick.
Place the chicken in a baking dish with the marinade.
Cover and place in the refrigerator for 30 minutes.
For better results, let it sit in the fridge overnight.
Grilling Chicken Instructions
Directions:
Remove marinated chicken from the refrigerator.
Preheat the George Foreman Grill on the high setting if your model has this feature with the lid closed.
Place the drip tray in front of the grill.
When the grill is ready, place the chicken breasts on the grill and close the lid.
Grill for 5 minutes looking for an internal temperature of 165 degrees F using a meat thermometer. Continue grilling until the temperature is reached.
When done, remove the chicken breasts from the grill and place them on a serving platter. Be careful as the grilling plates and food is hot.
Turn off the grill by unplugging it or by pressing the on/off button if your model grill has this feature.
Serve the chicken with your favorite side dishes.
Conclusion
As you can see, this is a very easy meal to prepare and grill on the George Foreman. Taking a total time of 45 minutes which includes the precooking preparation.
Your whole family and guests will just like the taste of this chicken. This is a very healthy low-fat meal for all to enjoy.
Be prepared for serving this meal again!
Related ===> How To Clean A George Foreman Grill
Go back to the Find Out More Quickly home page