Taking Waffles To the Next Level!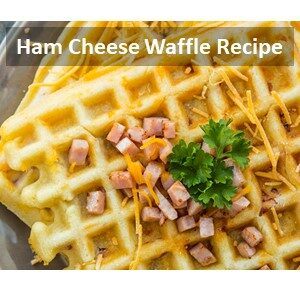 This ham cheese waffle recipe will be a huge hit when served for breakfast. All ingredients are in the batter make for a great tasting waffle. The waffle is cooked using your George Foreman Evolve Grill.
If you don't have a George Foreman Grill that has waffle plates, you can use any waffle maker.
The Ham and cheddar cheese are folded into the batter to make for an extra-special breakfast dish. Which makes this waffle recipe different. You just might want to try it out for the whole family.
You can buy diced ham at your local store or supermarket. Or, dice your own for this recipe.
You can make this recipe ahead of time and freeze the waffles. You can take them out and put them in the toaster or microwave for a quick meal. Remember, when cooking waffles in the microwave they will not be crispy as they would in the toaster.
Ham and Cheese Waffle Nutrition Facts
Serving Size: 1 waffle
Calories: 280
Total Fat: 12g
Saturated Fat: 7g
Cholesterol: 50mg
Sodium: 470mg
Carbohydrates: 30g
Net Carbs: 28g
Sugar: 8g
Dietary Fiber: 2g
Protein: 13g
Vitamin A: 10%
Ham and Cheese Waffle Recipe
This original recipe was taken from georgeforemancooking.com/blog/recipes/breakfast/ham-and-cheese-waffles.aspx with some modifications.
Related: ===> Other George Foreman Grill Recipes
Ingredients:
½ cup (1 stick) butter, salted or unsalted, softened
¾ cup milk
2 eggs
1 ½ cups flour
1 teaspoon baking soda
1/8 teaspoon salt
1 cup ham, diced
1 cup sharp cheddar cheese, finely shredded
Related: ===> George Foreman Cooking Times
Total Time: 35 Min. Prep Time: 25 Min. Cook Time: 10 Min. Serves: 6
Directions:
Remove the grill plates from the George Foreman Evolve Grill and attach the upper and lower waffle plates. Preheat the grill at 400 degrees with the lid closed.
Place the drip tray in front of the grill.
In a medium bowl, cream butter using hand mixer. Mix in milk and eggs until combined. Add flour, baking powder and salt. Mix to combine.
Fold in ham and cheese.
When the grill is ready, pour 2/3 cup of batter into the center of each waffle plate. Cook for 7-8 minutes, or until waffles are golden brown.
When done, remove waffles and place on a wire rack to cool
Repeat this process with the remaining batter.
Turn off the grill by pressing the on/off power button.
Serve waffles as is or with maple syrup or with any condiments of your choice.
Note: This recipe makes for six waffles. If you need to make this recipe for a larger group, adjust the ingredients accordingly.
Related: ===> How To Clean A George Foreman Grill
Conclusion
Now, you can have ham and cheese in a waffle for breakfast. This will make for a unique breakfast for the entire family. Of course, you can serve this recipe for lunch or dinner for a change of pace.
I guarantee that family members will be talking about this meal for days afterwards.
You can save some time by buying ham that is already diced at your local store. They come in 1 lb. packages.
This is another way to use your George Foreman Evolve Grill. Or, your waffle iron if you don't have a George Forman.
Happy Waffle Making!
Shop for the George Foreman Evolve Grill
You can shop for the George Foreman Evolve Grill by selecting or tapping on the image below. You will be taken to Amazon where you can place the order.
As an Amazon associate I earn from qualified purchases.
Go back to the Find Out More Quickly home page.
Related: ===> George Foreman Grill Store