Enjoy Tiramisu Using George Foreman Grill!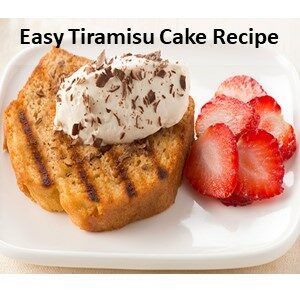 This is an easy tiramisu cake recipe that is made with pound cake and a twist on the basic Italian dessert. It's tasty and done using the George Foreman Grill. You will be amazed on the flavor of this basic dessert that is on the menu of most restaurants today.
This dessert is widely known and making an easy recipe that can be done at home it worth it. You can make it in under 15 minutes.
Our hope is that you will enjoy serving it to your family very soon.
Use this recipe if you don't have one of your own. If you do not own a George Foreman Grill, this recipe can be used on any contact grill you own.
For our purposes, the directions will be for any type of George Foreman Grill.
Grilled Tiramisu Cake Nutrition Facts
Serving Size: 2.5 oz.
Calories: 220
Total Fat: 14g 18% DV (Daily Value)
Saturated Fat: 6g 30% DV
Trans Fat: 4g
Polyunsaturated Fat: 2g
Monounsaturated Fat: 10g
Cholesterol: 65mg 22% DV
Sodium: 190mg 8% DV
Total Carbohydrates: 21g 8% DV
Dietary Fiber: 0g
Sugars: 13g
Protein: 3g 6% DV
Calcium: 47mg 4% DV
Iron: 6% DV
Caffeine: 9mg
Grilled Tiramisu Cake Recipe
The original recipe is taken from georgeforemancooking.com/blog/recipes/desserts/grilled-tiramisu-cake.aspx with a few modifications.
Ingredients:
4 teaspoons of melted butter (salted or unsalted) your choice
Chocolate shavings or cocoa powder
2 oz. strongly brewed espresso
½ cup mascarpone cheese
4 slices of pound cake
2 tablespoons of granulated sugar
2 tablespoons of icing sugar
1 teaspoon vanilla extract
½ cup whipped cream
Related: ===> Other George Foreman Grill Recipes
Total Time: 11 Min. Prep Time: 7 Min. Cook Time: 4 Min. Serves: 4
Related: ===> George Foreman Cooking Times
Note: If you are making this recipe that serves more than 4 persons adjust the ingredients accordingly.
Directions:
Using electric beaters, beat mascarpone cheese until light and fluffy in a medium size bowl. Beat in whipped cream, icing sugar, and vanilla until smooth. Set aside in refrigerator.
Preheat the George Foreman Grill with the lid closed. Place the drip tray in front of the grill.
While the grill is getting ready, combine espresso with melted butter and granulated sugar. Brush mixture on both sides of the pound cake slices.
When the grill is ready, place the cake slices on the grill for 2-4 minutes or until cake is heated.
When done, remove the cake slices from the grill and place on a dessert plate. Brush the slices with espresso mixture.
Turn off the grill by unplugging it or by pressing the on/off power button if your model has this feature.
Remove the mascarpone mixture from the fridge. Add a dollop of whipped mascarpone topping on each cake slice.
Garnish with chocolate shavings or cocoa powder.
Serve and enjoy.
Related: ===> How To Clean A George Foreman Grill
Conclusion
If you are a tiramisu lover than you should give this recipe a try. You need a contact grill of any model, but the above recipe was for a George Foreman Grill.
This is a great Italian dessert that you probably tried at a local restaurant. Now, you can make it in your own home in under 15 minutes.
This is an excellent change of pace dessert that you can serve at any time.
Go back to the Find Out More Quickly home page.
Related: ===> George Foreman Grill Store