Great Tasting Chicken Tenders On The George Foreman!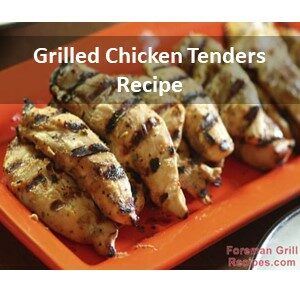 This is an easy to grill chicken tender's recipe that is perfect for a delicious quick meal or as a snack. It's easy to cook on a George Foreman Grill. You can use boneless skinless chicken breast tenderloins that are available at most grocery stores.
If they are not available you can substitute regular boneless skinless chicken breasts and gut them into strips of approximately 1 inch wide.
These tenders taste great in salads, wraps, or any other way you like to eat them.
If starting with whole breasts, use a meat mallet and pound to a thickness of about 1/2 inch. They will grill much better that way.
Chicken Tender Nutrition
Below is the nutrition values for chicken tenders.
Serving Size: 3 pieces
Calories: 336
Total Fat:6g
Saturated Fat:3g
Trans Fat:2g
Polyunsaturated Fat:7g
Monounsaturated Fat:2g
Cholesterol: 51mg
Sodium: 888mg
Potassium: 360mg
Total Carbohydrates:3g
Dietary Fiber: 1g
Sugars:3g
Protein: 21g
Chicken Tender Recipe
The original recipe is taken from foremangrillrecipes.com and modifications made to my liking.
Ingredients:
1 lb. chicken breast tenderloins (or use regular chicken breast cut to size)
½ cup Italian salad dressing
Juice of 1 lime
2 teaspoons of honey
Related: ===> Other George Foreman Grill Recipes
Total Time: 35 min. Prep Time: 30 min. Cooking Time: 5 minutes
Directions:
Mix salad dressing, lime juice and honey in a bowl and add mixture in a Ziploc bag and add the chicken tenders. Marinate tenders for as long as you can. Letting them marinate overnight is even better. Otherwise, marinate for 10 minutes.
Preheat the George Foreman Grill on the high setting with the lid closed if you have this feature. Place the drip tray in front of the grill.
When the grill is ready, add the marinated chicken tenders and close the lid.
Cook chicken tenders for 5 minutes. Using a meat thermometer check that the internal temperature is 165 degrees F.
Remove chicken tenders from the grill carefully as they will be hot.
Turn off the grill by unplugging it or by pressing the on/off power button if your model has this feature.
Serve with your favorite dipping sauce and side dishes.
Conclusion
We shared a very simple chicken tender recipe that you can use over and over again. By grilling them on the George Foreman they will be tasty, tender and moist.
A great meal or snack for anytime.
You can't go wrong with chicken tenders dipped into your favorite sauce and served with sides of your liking.
Happy eating!
Related ===> George Foreman Grill Store
Go back to the Find Out More Quickly home page.