Taking Cuban Sandwiches To The Next Level!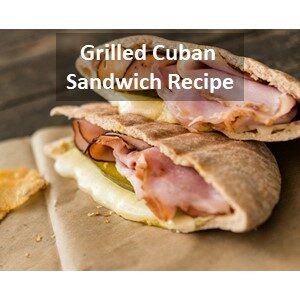 This grilled Cuban sandwich recipe puts a twist on the traditional Cuban model. This one is made on a George Foreman. It will be grilled to perfection and tastes delicious. You will be making this sandwich over and over again.
The traditional Cuban sandwich is made with Cuban bread and no mayo, salami, lettuce and tomato.
This recipe calls for pita pockets but does use the traditional ingredients for making the Cuban sandwich.
When serving this sandwich it is usually served with chips and pickles. Some add the pickles in the building of the different layers of cheese, pickles, and meat.
Make the sandwich layers in the way you like. Be sure to include all of the ingredients.
Cuban Sandwich Nutrition Facts
This information is provided for those needing to know the basic nutrition facts when consuming this sandwich if you are on a diet.
Serving Size: 1 sandwich
Calories: 715
Total Fat: 45g 69% DV (Daily Value)
Saturated Fat: 16g 80% DV
Trans Fat:5g
Cholesterol: 154mg 51% DV
Sodium: 1293mg 54% DV
Potassium: 520mg 15% DV
Total Carbohydrates: 37g 12% DV
Dietary Fiber:5g 14% DV
Sugars:5g
Protein: 41g
Vitamin A: 15% DV
Vitamin C: 15% DV
Calcium: 49% DV
Iron: 22% DV
Cuban Sandwich Pita Recipe
This original recipe is taken from georgeforemancooking.com/blog/recipes/red-meat/cuban-pita.aspx and modified according to my liking.
Ingredients:
3 precut and ready to fill pita pockets
Yellow mustard
6 oz. deli sliced ham
6 sandwich pickles
9 oz. sliced pork
3 slices of Swiss cheese, cut in half
Related: ===> Other George Foreman Grill Recipes
Total Time: 22 Min. Prep Time: 10 min. Cook Time: 12 min. Serves: 6
Related: ===> George Foreman Cooking Times
Directions:
Preheat the George Foreman Grill on setting 4, if your grill has this option, with the lid closed. Otherwise, just plug in the grill. Place the drip tray in front of the grill.
Cut each pita in half. Carefully open the pita, making sure it does not break on either side.
Spread a thin layer of mustard on one side of the pita. Place one half slice of Swiss cheese on top of the mustard. Place a pickle on top of the cheese.
Place 1 oz. of the sliced ham next. Then 1 ½ ounces of pork. Repeat steps 3 & 4 for the remaining pitas.
When the grill is ready, place the pita sandwiches, as many will fit, on the grill and close the lid.
Grill the pitas for 6 minutes and check if the cheese is melted. If not, continue cooking until the cheese is melted.
When done, remove the pitas from the grill being careful as the food will be hot. Place the pitas on serving dishes. Continue cooking until all the pitas have been grilled.
Turn off the grill by unplugging it or by pressing the on/off power button if your model has this feature.
Serve the pitas with tortilla chips, rice, or black beans. Or, choose any of your favorite side dishes.
Related: ===> How To Clean A George Foreman Grill
Conclusion
There you have it a nice twist to the Cuban sandwich. This is very easy to make as it is being done on your George Foreman Grill. This sandwich will be tasty and delicious. You just might be using this recipe again and again.
Use this recipe as often as you like, especially if you don't have one of your own.
You can use any type of pita including gluten-free for those who have gluten allergies.
Go back to the Find Out More Quickly home page
Related: ===> George Foreman Grill Store