A Great Chicken Cheese Quesadillas Recipe!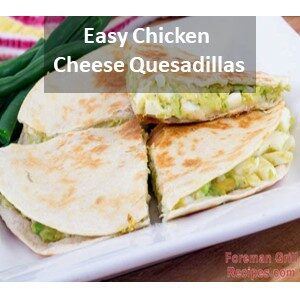 This is an easy chicken cheese quesadillas that will be crispy, tasty and delicious when cooked on a George Foreman Grill. You just won't believe how great tasting these quesadillas are.
Mexican cuisine is popping up all over and is extremely popular in North America and makes for great tasting meals and this is one is no exception.
This meal is eaten with your hands and is made with a round flat bread that is easily stuffed with your favorite fillings. It is easy to assemble and make for the entire family for a quick meal. This recipe calls for the quesadillas to be stuffed with cheese and chicken.
The recipe is below.
We also included a recipe for light refried beans that will go well with the quesadillas.
Chicken Cheese Quesadillas Nutrition Facts
Serving Size: 1 Quesadillas
Calories: 1069 53% DV (Daily Value)
Total Fat: 50g 77% DV
Saturated Fat: 23g 115% DV
Trans Fat:7g
Polyunsaturated Fat: 4g
Monounsaturated Fat: 19g
Cholesterol: 182mg 61% DV
Sodium: 1815mg 76% DV
Potassium: 881mg 25% DV
Total Carbohydrates: 92g 31% DV
Dietary Fiber:2g 29% DV
Sugars:3g
Protein: 61g
Vitamin A: 38% DV (Daily Value)
Vitamin C: 146% DV
Calcium: 37% DV
Iron: 39% DV
Grilled Chicken and Cheese Quesadillas Recipe
This original recipe was taken from foremangrillrecipes.com/chicken-recipes/chicken-quesadilla/ with modifications according to my liking.
Related: ===> Other George Foreman Grill Recipes
Chicken Ingredients:
One 8 ounce boneless skinless chicken breast
1 teaspoon extra virgin olive oil (EVOO)
1 teaspoon chili powder
½ teaspoon sea salt
½ teaspoon fresh ground black pepper
Quesadillas Ingredients:
Grilled chicken breast, sliced thinly
1 medium tomato diced
½ jalapeno, sliced thinly
1 scallion, chopped
1 Tablespoon chopped fresh cilantro
Juice of ¼ of a fresh lime
¼ teaspoon sea salt
¼ teaspoon fresh ground black pepper
1 cup shredded Mexican cheese blend
Four 8 inch flour or corn tortillas
EVOO for grilling
Total Time: 25 Min. Prep Time: 15 Min. Cook Time: 10 Min. Serves: 2
Note: If you are serving more than 2 people, increase the ingredients above accordingly.
Related: ===> George Foreman Cooking Times

Grilling Directions:
If chicken breast is thicker than ¾ inch, place it on a cutting board lined with plastic wrap. Add another piece of wrap on top of the breast. Using a meat mallet, pound the chicken to ½ to ¾ inch in thickness. Coat the breast completely with EVOO. Season all sides with chili powder, salt and pepper. Set aside while you prepare the grill.
Preheat the George Foreman Grill on high setting if your model has this option, otherwise, just plug it in. Close the lid. Place the drip tray in front of the grill.
When the grill is ready, place the chicken on the grill with the lid closed. Grill for 5 minutes or until the juices run clear. Check with a digital meat thermometer that the internal temperature is at least 165°F.
Remove the chicken from the grill carefully as the food will be hot. Place the chicken on the cutting board and allow it to rest while you prepare the pico de gallo. In a medium bowl, combine the tomato, jalapeno, scallion, cilantro, lime juice, salt and pepper.
Slice the chicken into thin slices. Brush EVOO on one face of each tortilla. Turn 2 tortillas over so the oiled side is down. Place ½ of the cheese on two of the tortillas. Add the chicken slices evenly divided to each tortilla. Spoon the pico de gallo equally on top of the chicken. Top with the remaining cheese. Place another tortilla, the unoiled side down, on top of the cheese.
Place the assembled quesadillas on the grill with the lid closed. Grill the quesadillas for 5 minutes or until the cheese is melted. Depending on the size of your grill, you may have to do each quesadilla individually.
When done, remove the quesadillas carefully as they will be hot. Place the cooked quesadillas to a cutting board and cut into 4 equal triangles. Place on serving plates.
Turn off the grill by unplugging it or by pressing the on/off power button if your model has this feature.
Serve with plenty of napkins and your favorite side dishes. A recipe for refried beans is below.
Related: ===> How To Clean A George Foreman Grill
Light Refried Style Beans Recipe
Ingredients:
1 tablespoon of extra virgin olive oil (EVOO)
½ medium onion, diced
2 cloves garlic, minced
1 teaspoon chili powder
One 15 ounce can of pinto beans, drained and rinsed
2/3 cup of chicken broth, plus more if needed
Salt and pepper to taste
2 tablespoons chopped fresh cilantro leaves
Sour cream for serving (optional)
Total Time: 19 Min. Prep Time: 10 Min. Cook Time: 9 Min. Serves: 2-4
Note: If you should be serving more than 4 people increase the ingredients above accordingly.
Cooking Directions:
In a large skillet, heat EVOO over medium heat. Add the onion and cook until tender, about 3 to 5 minutes. Add the garlic and chili powders and cook for 1 minute until fragrant. Stir in beans and chicken broth. Cook until the beans are warmed through, about 5 minutes.
Mash the beans coarsely with a potato masher or the back of a wooden spoon. Add more chicken broth if needed to moisten the beans. Season with salt and pepper to taste and stir in 1 tablespoon of cilantro.
Turn off the heat.
Place the beans in a shallow serving bowl and sprinkle the top with the remaining 1 tablespoon of cilantro.
Serve with the sour cream on top, if desired.
Conclusion
Here is a nice Mexican dish you can serve your family. You don't have to use the refried bean recipe with this dish. You can serve this with your favorite side dishes.
The quesadillas can be served just as they are right off the grill and they will taste great. The refried bean recipe was included with the quesadillas as they go very well with them.
You just might find yourself using this recipe over again.
The quesadillas are cooked on the George Foreman Grill and the refried beans are done on the stove.
Happy Quesadillas Grilling!
Go back to the Find Out More Quickly home page
Related: ===> George Foreman Grill Store