Grilled Tilapia Never Tasted So Good!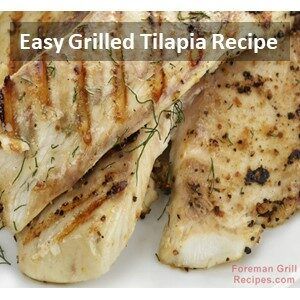 The easy grilled tilapia recipe will surprise all family members who love to eat fish. It will be tasty and flavorful off the grill. It makes for a great meal when served with their favorite side dishes.
Tilapia is a broad term for a variety of freshwater fish species. These fish are native to the rivers of Northern Africa, specifically the Nile River region. They were introduced to the rest of the world, notably Asia, as an easy and economical fish to produce commercially.
When purchasing fresh tilapia there should be no fishy odor and the sturdy flesh should glisten a little. If you can get a closer look check for a fishy odor smell. If it does, don't buy it.
How To Shop For Tilapia
When you go to your local supermarket do you notice that tilapia is always available? This is one of the most commonly farm raised fish in the world. If you are shopping for tilapia look for sustainable raised or sustainably sourced on the package label or the display case tag. This means that the fish came from farms that produce the tilapia responsibly and sustainably.
When you see Tilapia in the market it is generally filleted with the skin removed and most bones pulled out.
You should find this fish in the freezer section or the fresh fish sections of your local store. Whether frozen or fresh, be sure the package is labeled responsibly and sustainably.
This fish is affordable and is great tasting which will make the fish lovers in your family very happy. They will be surprised when you serve them this fish off the George Foreman Grill.
Tilapia Nutrition Facts
The nutrition facts on this fish are stated below.
Serving Size: 4 oz.
Calories: 145
Total Fat: 3g
Saturated Fat:1g
Monounsaturated Fat:1g
Polyunsaturated Fat:7g
Cholesterol:6mg
Sodium:5mg
Potassium:9mg
Carbohydrates: 0g
Net Carbs: 0g
Sugars: 0g
Fiber: 0g
Protein:7g
Vitamins & Minerals
Vitamin B6: 1mg 11% MDA (Minimum Daily Requirement)
Vitamin B12:1ng 88% MDA
Vitamin D:2ng 28% MDA
Vitamin E:9mg 5% MDA
Vitamin K:9ng 1% MDA
Calcium:9mg 2% MDA
Iron:8mg 10% MDA
Magnesium:5mg 12% MDA
Phosphorus:3mg 24% MDA
Copper:1mg 5% MDA
Manganese: 0mg 3% MDA
Selenium:7ng 89% MDA
Thiamine:1mg 8% MDA
Riboflavin:1mg 5% MDA
Niacin:4mg 27% MDA
Folate:8ng 2 % MDA
Choline:2mg 11% MDA
The Flavor and Texture of Tilapia
Tilapia is very mild in flavor as this fish can stand to be well seasoned and used in a variety of different cuisines. For a quick recipe just use a little salt, pepper, and a squeeze of lemon juice should work fine.
The texture of the fish when grilled properly will be white and flaky. The grill will add a little more flavor because of the grill marks. Tilapia cooks very well on a George Foreman Grill and you will not be disappointed at the results.
The recipe provided here is a basic one which allows the fish to be the center of attention, which it should be. If you don't have your own recipe you can use the one below.
Easy Grilled Tilapia Recipe
This recipe is taken from foremangrillrecipes.com and modifications were made according to my liking.
Ingredients:
1 lb. fresh tilapia fillets, cut into 4 portions
1 ½ tablespoons extra virgin olive oil (EVOO)
1 garlic clove, finely minced
1 ½ teaspoons smoked paprika
½ teaspoon sea salt
½ teaspoon finely ground black pepper
Lemon wedges for serving
Related: ===> Other George Foreman Grill Recipes
Total Time: 9 Min. Prep Time: 5 Min. Cook Time: 4 Min. Serves: 4
Related: ===> George Foreman Cooking Times
Directions:
Preheat the George Foreman Grill with the lid closed. Place the drip tray in front of the grill.
In a small bowl, combine the EVOO with the garlic. Brush the tilapia fillets on one side with ½ of the EVOO and garlic. Season with ½ of the paprika, salt, and pepper. Flip the fish over and repeat on the other side.
When the grill is ready and after the fish is brushed with the seasonings, place the fillets on the grill with the lid closed.
Cook the fillets for 4 minutes and look for the flesh to be opaque and flakes with a fork. Using a meat thermometer check for an internal temperature of 145°F at the 3 minute mark. Continue cooking until the temperature is reached.
When done, remove the fillets from the grill. Be careful as the food will be hot. Place the fillets on serving plates.
Turn off the grill by unplugging it or by pressing the on/off power button if your model has this feature.
Serve the whole fillets portions with lemon wedges and your favorite side dishes.
Related: ===> How To Clean A George Foreman Grill
Conclusion
There you have it, a nice easy to use recipe the next time you are cooking tilapia for the whole family.
This meal does not take long in preparation and grilling. In less than 10 minutes and you will be eating a fish that is just tasty and delicious.
Give this recipe a try and you just might be using it over and over again.
Happy tilapia grilling!
Go to the Find Out More Quickly home page.
Related: ===> George Foreman Grill Store