Taking Pork Chops To The Next Level!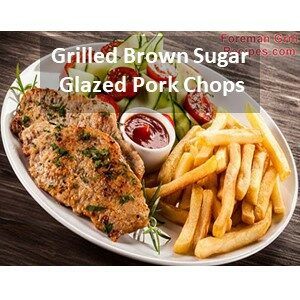 Grilled brown sugar glazed pork chops is an amazing recipe that takes easy grilled pork chops to an all new level. Pork is a naturally salty and sweet white meat. It's loaded with protein and can be relatively low in fat. Your George Foreman Grill is the perfect for preparing quick and easy pork chops and this recipe will accentuate the flavors like you've never experienced before.
Now it's time to treat your whole family to something new and tasty. Give this recipe a try, even if you have one of your own.
Brown Sugar Pork Chops Nutrition Values
We now share the the nutrition values for eating brown sugar pork chops.
Serving Size: 1 Pork chop 4 oz. 1/2″ thick
Calories: 262
Calories From Fat: 123
Fat: 7g
Saturated Fat: 3g
Potassium: 223mg
Sodium: 178mg
Cholesterol: 36mg
Dietary Fiber: 1g
Sugars: 1g
Protein: 3g
Pork Chop Types Explained
Many people can be confused about pork chops. There are many types of chops to choose from. We cover in this section the six main types of cuts of pork meat.
Rib Chop
Rib chop is also known as Bone-In Ribeye Chop or Rib End Cut. This is one of the best types of chops to get and it's the most expensive. You can trim the excess fat and can be treated like a steak.
Center-Cut Loin Chop
This cut is also known as Porterhouse Chop or Top Loin Chop. This is cut from the center loin and has both loin and tenderloins sections.
Loin Chop
This cut of chop is also known as Pork Loin End Chop. This is from the upper loin, and almost the same as the center-cut loin chop but has no tenderloin.
Sirloin Chop
This chop is also known as Sirloin Steak. This cut of pork is a challenge to grill and to keep it tender. When using this cut, be sure to marinate it several hours before grilling.
Boneless Loin Chop
This cut of chop is also known as America's Cut, New York Chop, and Pork Loin Filet. This chop is the leanest chop and great for stuffing.
Shoulder Chop
This chop is also known as Blade Chop, Pork Shoulder Steak, and Pork Steak. This is a tough meat and should be marinated before grilling. Cook low and slow for best results.
Some of the cuts of pork chops are better than others for grilling. Some of these cuts of meat will taste better when marinated.
Brown Sugar Pork Chop Recipe
The original recipe is taken from foremangrillrecipes.com and modifications made to my liking.
Ingredients:
2 Center-cut pork chops, 4oz each (bone can be used)
¼ cup of brown sugar
2 tablespoons vegetable oil
1 teaspoon honey
1 tablespoon soy sauce (Option: use a low-sodium variety)
1 tablespoon cornstarch
¼ cup water
Pinch of salt and pepper
Related: ===> Other George Foreman Grill Recipes
Total Time: 25 Min. Prep Time: 15 Min. Cook time: 10 Min. Serves: 2
Related: ===> George Foreman Cooking Times
Directions:
In a small saucepan, combine brown sugar, vegetable oil, soy sauce, honey, salt and pepper. Bring mixture to a boil. In a separate cup combine cornstarch and water. Whisk well and slowly pour into the saucepan mixture. It should thicken up. Set aside.
Preheat the George Foreman Grill with the lid closed. Place the drip tray in front of the grill.
When the grill is ready, place the pork chops on grill and close the lid.
If chops are ½" thick, grilling time should be between 8-11 minutes. At the 8 minute mark, before removing chops from the grill, brush the chops with the brown sugar mixture. It should caramelize so keep a close eye on it. Cook for additional 2 minutes, for a total of 10.
Be sure the internal temperature of the chops is 145 degrees F. Use a digital meat thermometer for checking internal temperature.
When done, remove the chops from the grill and place on serving plates and pour on remaining brown sugar mixture on chops.
Turn off the grill by pulling the plug, or by pressing the on/off button if your model has this feature.
Serve pork chops with your favorite side dishes.
Related: ===> How To Clean A George Foreman Grill
Conclusion
This is another great recipe for pork chops that you need to try. Very easy in preparation and a short grilling time.
If your family likes pork, this might be a good change of pace that is different from your normal way of cooking pork chops for the family.
Be sure to use center-cut pork chops with the bone-in or out makes no difference.
The chops will come off the grill being moist, tasty and gratifying for all too enjoy.
Go back to the Find Out More Quickly home page.
Related: ===> George Foreman Grill Store