Replacement Parts Keeps Grills Working Like New!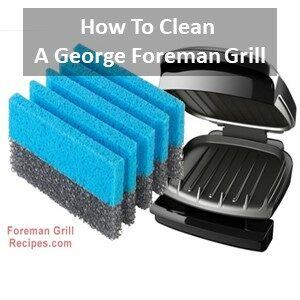 Introduction
The George Foreman Grill Replacement Parts article will mention specific parts you can secure for your grill. Over time we lose or misplace the spatula or other items. Now, you can replace any part you might be missing.
Most of these parts you cannot find in your local hardware store.
It would be embarrassing to use your Foreman Grill only to find that you misplaced the drip tray. Now, you are scrambling to find where it is or what you can use to catch the grease rolls down the plate groves. Or, you are ready to clean the grill and cannot find the cleaning sponge or spatula.
Don't panic. You can order these accessories below to make you feel better.
As an Amazon associate I earn from qualified purchases.
George Foreman Grill Parts
The George Foreman grill parts that will be discussed are listed below.
Drip Trays
Evolve Grill Plates
Cleaning Sponge
Spatula
Covers for Indoor/Outdoor Grills
Drip Trays
The drip tray is used for collecting the fat as the food is being cooked on the grill. The drip tray is dishwasher safe. There are two types of drip trays and they are for fitting grills up to 12 inches wide and grills that are 14.5 inches wide. You will find both of these drip trays below.
The oil grease drip tray is for most 4 serving George Foreman Grills that have a 12-inch wide bottom grill plate.
12" Wide Drip Tray & 14.5″ Wide Drip Tray
Evolve Grill Replacement Plates
If you own an Evolve Grill they come with ceramic plates. If, at any time, you used any type of metal on them you may see some scratches to the non-stick coating or even some peeling. Or, continued use of the grill which has damaged the grill plates.
Below, you can order replacement ceramic plates to make the grill just like new again.
Cleaning Sponge
The sponge is used for cleaning the grill after cooking food. It is made to fit between the plate groves to remove any excess food particles and grease. It is recommended that the grill be cleaned after every use. If you own a George Foreman Grill that does not have removable plates, this part should be used in their cleaning.
For newer grill models that have removable plates, you don't need this item as the plates can be placed in the sink or dishwasher to be cleaned.
Spatula or Scraper
This item usually comes with the new grill. However, it can get lost or misplaced. It is used to scrape between the groves of the plates. It is especially made to fit these groves of any George Foreman Grill. They easily remove any excess grease or food particles. This is a great part to have regardless of the model grill you may own.
Covers For Indoor/Outdoor Grills
If you should own a George Foreman Indoor/Outdoor Grill, this cover can come in handy. It protects the grill while it is outside. The cover is water-resistant, heavy-duty, and has a handle to easy lifting the cover off the grill.
This grill cover fits model GFA0240RDCG. The material is made of polyester and the color is gray.
The grill cover below is for Indoor/Outdoor models GGR50B, GFO3320, GFO3320GM, GFO3320SCQ, GFO3320GMQ, GFO240TGM, GFO240S, GFO240GM and GFO240. It is water-resistant and has an elastic bottom to keep the cover in place. It's UV resistant and wind resistant. When using this cover be sure the grill is cleaned prior to use.
The grill cover below is 32" High x 19.5" in Diameter and covers the entire grill. The cover fits the following models: GFO240, GFO240S, GGR50B, GGR50, GFO3320GM, and GFO3320.
The cloth is made of waterproof function that is soft to the touch. It is durable without fading. It has a fade resistant fabric and not to worry about sun exposure. The cover will protect the grill from all elements. The design includes air holes on the side which prevents moisture and condensation buildup which is the cause of rust. The fabric is made from 600D heavy duty polyester and waterproof polyvinyl coating inside.
Conclusion
In the event that you should misplace any of your George Foreman Grill accessories, you can easily replace them. Some accessories are not required for all of the Foreman Grills. However, if you should own a model that does not have removable plates, you should have at your disposal the cleaning sponge and spatula.
Of course, you can use paper towels to clean the Foreman grill. It makes is so much easier when you have the proper tools to use when cleaning them.
We have provided a cover for those of you who own anyone of the Indoor/Outdoor George Foreman Grill models. It is a great way to protect the grill from the outside elements.
Go back to the Find Out More Quickly home page.